Jan 15th, 2021: Informed by the US HUPO president, Dr. Jennifer Van Eyk, Dr. Peipei Ping was selected as the winner of the US HUPO 2021 Distinguished Contribution Award. This year, the US HUPO Award committee has reviewed several highly qualified individuals for this award, and they all agreed that Dr. Ping's contributions to the field of proteomics made her worthy of this prestigious award. The award lecture and ceremony will be hosted at the 2021 Virtual US HUPO conference on March 9th, 2021.
February 8th, 2019: Today, the UCLA's Institute for Digital Research and Education (IDRE) Postdoctoral Fellowship Review Committee announced Dr. Harry Caufield as the recipient of an award of $5,000. This post-doc fellowship program is part of IDRE's Early Career Research (ECR) Program, which is geared toward developing a community of junior research staff, postdocs and graduate students. This year, the Review Committee received a number of very high quality applications and had to choose from a group of very deserving candidates. Harry's application was selected because it features innovative and computationally based solutions to research problems with a potentially broad impact to the campus. Congratulations to Harry!
December 6th, 2018: Professor John Yates, Professor Jenny Van Eyk, and Professor Peipei Ping are visiting the Beijing National Center of Proteomics-Phoenix in China.
October 3rd, 2018: Informed by the President of the International Human Proteome Organization (HUPO), Dr. Mike Snyder (Stanford University), Dr. Peipei Ping is selected by the HUPO Award Committee to receive the 2018 HUPO Clinical Translational Award for Proteomics Sciences. The award Lecture and ceremony will be hosted at the 2018 HUPO World Congress in Orlando, Florida on October 3rd, 2018.
The award is to recognize our project for tracking protein dynamics in mammals and in human using D2O labeling; it involves a stable isotope labeling protocol, a computational platform, and full datasets in mouse and human. Since the conception of this project at 2010, we have now achieved a total of 7 relevant publications with two on NPG journals.
Congratulations to Peipei and our entire team.
November 13, 2017: It was an active time for the Ping lab at the American Heart Association (AHA) Scientific Sessions 2017. Dr. Jie Wang gave a talk during an abstract oral session on the Characterization of Oxidative Stress Regulation of Endoplasmic Reticulum Stress Pathway in Cardiac Remodeling. Jennifer Polson presented her Master's Thesis during a Basic Research session. During the poster session, she was interviewed by the AHA press team about her experiences submitting an abstract and preparing for the session as a whole, including the pressure of crafting the perfect abstract, creating an effective poster, and being ready for questioning from scientific colleagues.
July 21, 2017: Congratulations to Vincent, Bilal, and Harry for attending and presenting at the ISMB 2017 Meeting in Prague, Czech Republic. Harry is working with the Ping lab to support NIH Data Science leadership in organizing this "BD2K Special Track" of ISMB meeting, which features talks showcasing the strategies and successful cases with respect to the NIH BD2K missions. Our attendee team will also present a booth at the meeting, sharing exciting stories about our HeartBD2K Center and NIH BD2K program with a broad international data science community.
May 11, 2017: It was our pleasure to have Dr. Helen M. Berman at UCLA today. Dr. Berman is a distinguished Professor Emerita of Chemistry and Chemical Biology at Rutgers, The State University of New Jersey; she is highly respected for her outstanding accomplishments in initiating and developing the Worldwide Protein Data Bank (wwPDB.org). Dr. Berman is presenting a webinar, "Anticipating Innovations in Structural Biology" today at 1pm PDT.
March 17, 2017: Congratulations to our Interns! Here's to our student software developers at UCLA, Abineet Das Sharma, Avirudh Theraja, Sam Yang and Shashank Khanna for receiving offers to work at highly-regarded tech companies! Sam will be working at Northrop Grumman's new Data Science Department as a Data Scientist. Abineet will be interning for Symantec's STAR team. Avirudh and Shashank will be interning at Amazon in Seattle. Thank you for your contributions to our Center, and we wish you all the best of luck!
March 8, 2017: Congratulations to Peipei and BD2KCCC administrative team for supporting NIH leadership by hosting a productive PI meeting in Bethesda, MD. At this meeting, Dr. Patti Brennan, as the NLM Director and newly appointed NIH Interim Associate Director for Data Science, met with the Directors and PIs representing 13 BD2K Centers of Excellence and bioCADDIE. She listened to their reports and shared with PIs her vision on NIH Data Science. Also in attendance is Dr. Betsy Wilder from NIH DPCPSI, who is heading the new management team of BD2K program.
October 1, 2016: Congratulation to Brian Bleakley and his team for winning the competition in the AHM of the CA BD2K CoEs/BD2K Workshop in Santa Rosa, CA. Among other competitors pitching their ideas to multi-Center collaborative projects, Brian delivered his ideas of employing NLP & publication mining to automatically populate CEDAR metadata templates, which won him the biggest award of the competition -- a Mini Cooper! Brian happily accepted the keys to his new car from Dr. Arthur Toga and drove it swiftly back to Los Angeles. Safe travels!
April 8, 2016: Congrats to both Daniel Yao and Kevin Sheu for graduating from UCLA this quarter! Daniel will be working as a Software Development Engineer for Amazon Web Services. Kevin will be pursuing his Masters in Computer Science at the Georgia Institute of Technology.
November 12, 2014: Edward successfully defended his PhD thesis today. Congratulations to the newly-appointed Dr. Edward Lau!
October 9, 2014: Team led by Professor Peipei Ping to receive $11 Million of NIH support to establish Center of Excellence for Big Data Computing. On October 9th, 2014 at 10:30am, the NIH Office of the Director kicked off the BD2K Funding Announcement with a media telebriefing with Drs. Francis Collins, Philip Bourne, and Eric Green. Click here to learn more about the UCLA BD2K Center of Excellence.
September 2014: Congratulations to Amanda on being named the 2014 Jennifer S. Buchwald Graduate Fellowship in Physiology recipient! The award is from an endowment established by Dr. Jennifer S. Buchwald, a former member of the UCLA Physiology Department upon her retirement in 1991; she is currently an Emeritus Professor of Physiology at UCLA. Dr. Buchwald's legacy to the Department continues in the form of graduate student support. It is an honor for any graduate student to be chosen.
August 2014: Congratulations to the following people in the lab who have gotten jobs in industry: Joon-Sub Chung, who will be a User Interface Engineer at Zazzle, David Meng, who will be a Software Engineer at Netsuite, and Nobel Zong, who is the Director of Mass Spectrometry at Vitae Diagnostistics. Another programmer, Vincent Kyi, deserves congratulations for finishing his undergraduate degree at UCLA this June. More congratulations to Amanda Lin, who received a fellowship from the NIH training grant in "Molecular, Cellular & Integrative Physiology," and to Caitie Black, for being accepted into the Masters Program at UCLA for Physiological Science! We are all so proud, and look forward to your bright futures.
July 18, 2014: Dr. Ping, Amanda Lin, and Caitie Black met with Dr. Andrew Su and his lab from The Scripps Research Institute (TSRI) at La Jolla Shores to enjoy a fun afternoon of science, sand, and sandwiches - the start of an awesome collaboration with the Su Lab!
May 2014: Dr. Ping has been named the 2015 recipient of the Robert M. Berne Distinguished Lectureship given by the Cardiovascular Section of the American Physiological Society (APS). This award is presented each year to an emerging leader in cardiovascular research whose current research is particularly stimulating, such that the presentation of this work would contribute to interest in, and growth of, the Cardiovascular Section. We congratulate Dr. Ping on this outstanding achievement!
June 2013: Congratulations to Dr. Peipei Ping who has been selected as a co-winner of the Human Proteome Organization (HUPO 2013) Distinguished Service Award. The award will be presented during the HUPO 2013 World Congress in Yokohama, Japan, September 14th–18th, 2013. This award recognizes an exemplary member of the proteomic research community whose dedicated service has made indispensable contributions to the organization and mission of HUPO. Please click the link below for details (http://www.hupo.org/about-hupo/awards/).
May 2013: iCOPa version 2.0 is available to download for free at Apple's App store. It now supports ten modules of proteome knowledge on cardiac organelles. There is a tab for new keyword search, an interface to review immunohistochemical data and the ability to conduct epidemiological surveys with geographical tags.
May 2013: Congratulations to Ms. Amanda Lin who was awarded the 2013 NHLBI Mitochondrial Biology Symposium Poster Peer Science Award at the NHLBI Mitochondrial Biology Symposium held at the NIH from May 6th-7th, 2013. The Peer Science Award was given to the top scorer of a total of 135 abstract posters presented at this symposium. Each poster was judged based on quality of scientific research with only one award being given.
Oct. 16, 2012: iCOPa V1.0 is now available at Apple App store. It delivers global access to the COPaKB knowledgebase to your finger tips. Enjoy cardiovascular proteomics, intuitively! Instructions are available athttp://www.youtube.com/watch?v=_PDCDpdqDNc&feature=youtu.be.
Aug. 23, 2012: Graduation day for our Summer Interns. Congratulations to Tina, Jung, Ravina and Jun. It has been a great experience for them as well as for scientists in Ping group.
July 8, 2012: Dr. Peipei Ping, Dr. Ding Wang and Mr. Xiangbo Liang walked together and brainstormed a name for the Bioinformatics Laboratory. Around 8:30pm and 10 miles after they started, out of the genius intuition of Xiangbo, "COPaKB Studio" was born.
July, 2012: NHLBI Proteomics Center at UCLA welcomes 2012 Summer Interns.
Tina Huang, The Bishop's School, San Diego, CA
Jung Hyung Sin, Palos Verdes High School, Palos Verdes Estates, CA
Jun Hyung Sin, Palos Verdes High School, Palos Verdes Estates, CA
Ravina Verma, Monte Vista High School, Danville, CA.
June 26, 2012:Dr. Ping was chosen by American Heart Association (AHA) to present the Thomas W. Smith Memorial Lectureship at the upcoming AHA 2012 Scientific Sessions in Los Angeles during Nov. 3-7, 2012. AHA 2012 is expecting 23,000 attendees; please join us in Los Angeles.
June, 2012: Dr. Ding Wang was awarded an AHA BCVS 2012 Travel Award. Congratulations to Ding.
June, 2012: Edward was awarded a two-year AHA Predoctoral Fellowship. Congratulations, again.
May 28-31, 2012: Edward won 2012 ISHR International Poster Competition Award at Banff, Canada.
Jan. 25-26, 2012: Ping lab retreat was held right after the IFP conference (Ping lab retreat IV). Everyone got a chance to present his/her latest work. We were honored to have Dr. Rolf Apweiler, Dr. Robert Beynon, Dr. Amy Claydon, Dr. Jass Pass and Doctor-to-be Mark Ranek joining us. It has been a stimulating experience to us all.
Jan. 22-25, 2012: The 4th IFP and 2nd PPDUP conference was big success. Dr. Ping served as a co-chair of this conference with the theme of Protein Degradation Pathways in Health and Diseases. The whole Ping lab crew contributed their support. Kevin, Jasmine and Allen were the essential trio to run the conference.
Dec, 2011:Christmas Eve, Dr. Ping and colleagues worked over time in the lab. Ding treated everyone with home-cooked cuisines for supper.
Dec, 2011: It is year-end again. Cardiology and Physiology hosted their year-end parties, both in the potluck styles this year, equally terrific, great foods, warm attitudes and tight competition towards the best cuisine awards.
Dec, 2011: December traditionally is the most busy month of year. It is time to sum up the progresses of the year; many manuscripts are in preparation. It is also time to plan for the future directions; fellowships and grants are being synthesized as well.
Dec, 2011: Tae-young got married.
Nov, 2011: Eight lab members attended AHA Scientific Sessions 2012 in Orlando. Great science, great spirits and great meeting with our collaborators.
Aug, 2011: Sarah gave birth to her second baby girl. Congratulations.
Jul, 2011: Cardiac Organellar Protein atlas Knowledgebase (COPaKB, https://amino.heartproteome.org) was released at AHA BCVS conference. Let's embrace a new era of cardiac proteome biology.
Jul, 2011: NHLBI Proteomics Center Second PI Meeting was hosted in Boston, MA. David gave an oral presentation on behalf of the Ping lab. Way to go, buddy.
Jun, 2011: Dr. Ping co-chaired the conference onProteomics and Translational Medicine, jointly hosted by 3rd IFP and 7th CNHUPO organizing committee in Hangzhou China.
Apr, 2011: Dr. Ping served as a co-chair ofProteomics and Translational Medicine Conferencejointly hosted by the 3rd IFP and 7th CNHUPO at Hangzhou.
Jan, 2011: NHLBI Proteomics Center First PI Meeting was hosted in Bethesda, MD. Jun and Kevin put in great efforts to coordinate this prestigious event.
Sep, 2010: Dr. Ning Deng accepted faculty position in Zhejiang University, China.
Sep, 2010: Dr. Oliver Drews accepted faculty position in University of Heidelberg, Germany.
Aug, 2010:UCLA celebrates the establishment of NHLBI proteomics center.
Jul, 2010: Dr. Ping co-chaired American Heart Association Basic Cardiovascular Sciences (AHA BCVS) Symposium 2010 in Palm Springs, California.
Jun, 2010: Dr. Ping co-chaired 1st Proteomics of Protein Degradation & Ubiquitin Pathways (PPDUP) and 2nd International Forum of Proteomics conferences at Vancouver, Canada.
Feb, 2010: One good news from Sha­ron Huang, a sum­mer intern 2009 of our lab. Sha­ron has been accep­ted to MIT on a full scholarship.
Sep, 2009: Sarah Scruggs gives birth to her firstborn!
Aug, 2009: Sarah Scruggs was awarded the NIH NRSA Fellowship, and promptly started writing another few grants to pass the time between experiments.
Jun, 2009: Rachna and Glen defended their dissertations.
May, 2009:Christopher Lotz was awar­ded the AHA Postdoctoral Fellowship.
Dec, 2008: Julia Wang gives birth to her second child, who is already pro­fi­cient in sam­ple hand­ling and LTQ maintenance.
Jun, 2008: Rachna wins travel award at ISHR 2008 Cincinnati. Congratulations to her.
Spring, 2008: In a nod to the European Union, Phil Doran and Isabella Ferando have agreed to participate in the lab.
Apr, 2008: Jun Zhang published yet another outstanding publication in Proteomics for functional cardiac mitochondria.
Feb, 2008: Glen Young wins the AHA's Joel Drilling's award for recognition of his excellence in drilling.
Jan, 2008: Aldrin Gomes accepted a prestigious professorship at the University of California Davis.
Dec, 2007: Oliver became a fellow of the American Heart Association.
Nov, 2007: Dr. Ning Deng joined the lab. With a doctoral degree in computer science, he made Nobel as the second choice IT consultant.
Oct, 2007: The Ping Lab found itself in Seoul Korea for the 6th Aannual HUPO World Congress.
Jun, 2007: The American Heart Association awards lab member Glen Young a predoctoral fellowship.
Apr, 2007: Oliver Drews published an article inMolecular & Cellular Proteomics vol 6 issue 11.
Spring, 2007: After many months of renovation, lab members get to finally return to the new lab.
Dec, 2006: To accommodate the 2006 surge of personnel, the lab undergoes some remodeling when an accident puts most of the lab under several inches of water and coolant.
Oct, 2006: In late October, all of Ping Lab attended 5th HUPO World Congress in Long Beach.
Fall, 2006: The Ping Lab received many new members: Daniel Li, Julia Wang, Ding Wang, Myong Koag and Haojie Lu. Welcome to the lab.
Aug, 2006: Two companion papers of Ping Lab were published on Circulation Research vol 99 issue 4. The editorial on the same issue regarded these studies as "tour de force."
Aug, 2006: David was invited to talk on 2006 American Heart Association summer meeting. He also received Young Investigation Travel Award.
Jun, 2006: Aldrin got Grant-in-aid and Oliver got post-doctoral fellowship both from American Heart Association.
Dec 14, 2005: The 2005 Ping Lab Christmas party was held at one of the most famous attractions in LA, the Getty Center. This is also farewell party for Dr. Manuel, who has been with us for 8 weeks. We all enjoyed his company.
March, 2005: Dr. Xiaohai Li, proteomic expert from China Science Acadmy, joined our functional proteomics team. He will be a fine addition to the lab.
Apr 30, 2004: CVRL (Cardiovascular Research Laboratory) Happy Hour for Grad-student and Post-docs hosted by Dr. Peipei Ping. Next CVRL event will be ice cream social hosted by Dr. Goldhaber. It is awesome! I love CVRL!
Apr, 2004:Jun came all the way here from Kentucky to work in the lab.
Mar, 2004: Mr. Will Foster has joined our lab.>
Nov 19-20, 2003:Jun and Dr. Cao, two founders of the lab, came to Los Angeles. It is such a happy reunion! It is really a time of thanks given that it's Thanksgving Eve
Oct 28-31, 2003: Crew members Tom, Beniam and Nobel visited Dr. Edmondson's lab at Little Rock, Arkansas. Dr. Edmondson and Richard are esteemed long-time collaborators of our lab. They were very nice and helpful. The hardwares in their lab were quite impressive, too. This journey was truly beneficial for us. During the three-day visit, Rick has managed to identify more than 10 isoforms of human keratin in a mouse sample. Genotyping for the origin of these keratin is on-going. Beniam has decided to shave all the lab crews and mice before any further MS experiments.
Oct 20, 2003: Dr. Ju Chen from UCSD gave a talk regarding Cypher and cardiomyopathy. The talk was popular among many members.
Oct 16, 2003: Dr. Macllelan gave a fabulous talk on p53. Lab members look forward to more meetings like that.
Sep, 16, 2003: A member of our lab, Dr. Jun Zhang, defended her thesis. As the most senior member, she is loved by all other lab members. Congratulations, Jun.
Aug 13-17, 2003: On the last day of the AHA conference meeting in Snowbird, Utah, Dr. Ping gave a talk, and four lab members and one former lab member presented their posters. Dr. Wang, Dr. Lu, Dr. Qiao and former member Dr. Baines won the travel awards. Congratulations.
Nov 16-20, 2002: AHA 2002 Scientific Sessions. The laboratory will present four oral abstracts at this year's Sessions. Notably, Dr. Chris Baines is one of six finalists for the Melvin Marcus Award, the final presentations for which will take place on Tuesday, November 19th.
Nov, 2002: The PKC lab has moved from University of Louisville to UCLA. Thanks all the people of University of Louisville for being so supportive and thanks to all the people in UCLA for being so nice to the new-comers. Also special appreciation to Dr. Wang, Tom, Joe and Ernest for making the difficult ask of moving so smooth.
Oct 15, 2002: Joe constructed 4 plasmids already. Congratulations.
Oct, 2002: Three undergraduate students became members of our research team. They made up into "new blood" to keep "the organism" from ischemia. Welcome!
Oct, 2002: Dr. Wang and Tom went over L.A. as pioneer to settle down a new home for this family. Their work will be highly appreciated.
Aug 23, 2002:Several lab members enjoyed the outdoor picnic of the Dept of Physiology in a thunderstorm. This experience was refreshing.
Aug 19, 2002: Tom Vondriska successfully defended his dissertation today.
Aug 1, 2002: We have a new member joining the lab, Joe Qiao. He comes from the Basic Medical Sciences Dept at Purdue and brings to the lab a considerable background in molecular biology.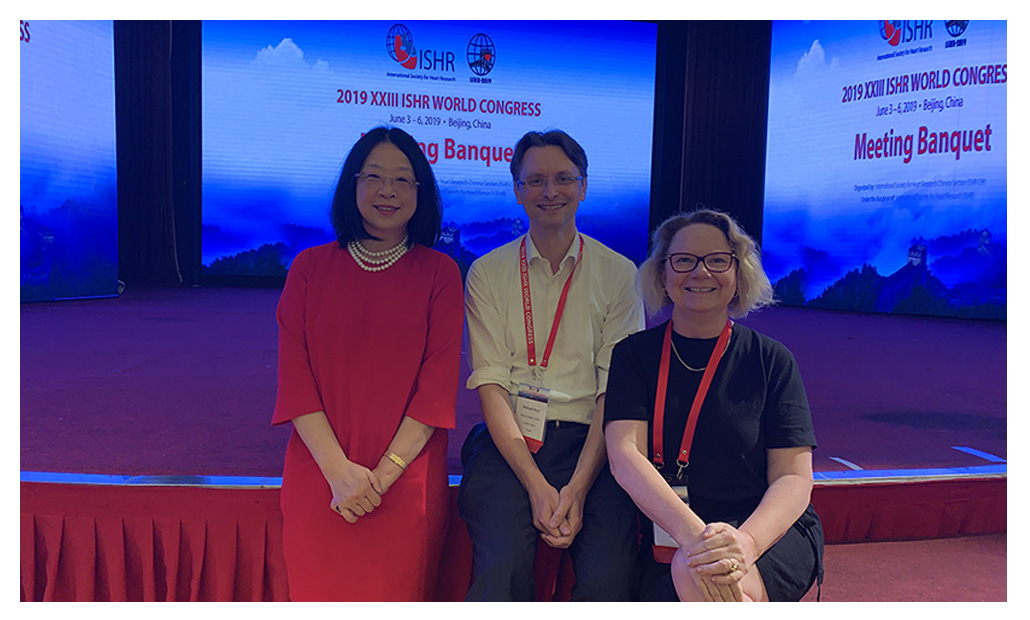 Drs. J. Van Eyk, M. Mayr, and P. Ping were at the 2019 ISHR World Congress.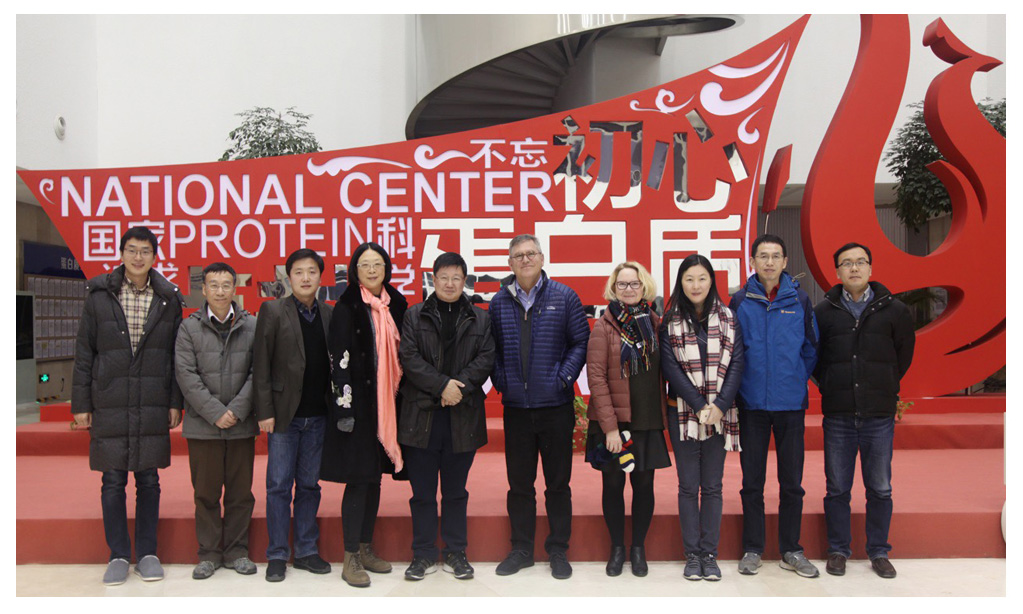 Professor John Yates III, Professor Jennifer Van Eyk, Professor Peipei Ping, and Professor Fuchu He at the Beijing National Center of Proteomics – Phoenix Center.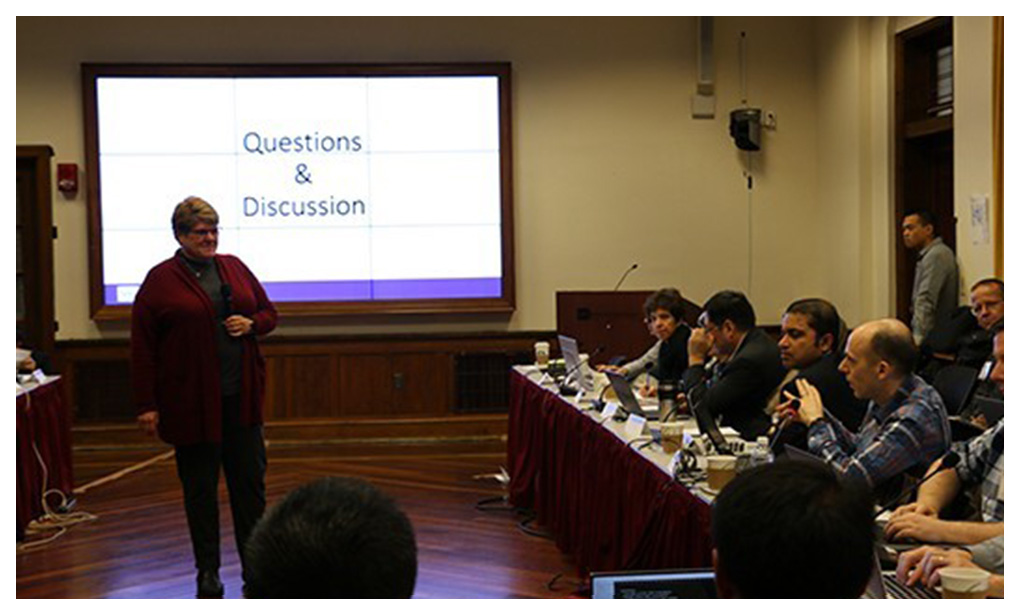 Dr. Patti Brennan, NLM Director and NIH Interim Associate Director for Data Science, at the March 2017 NIH BD2K PI Meeting in Bethesda, MD.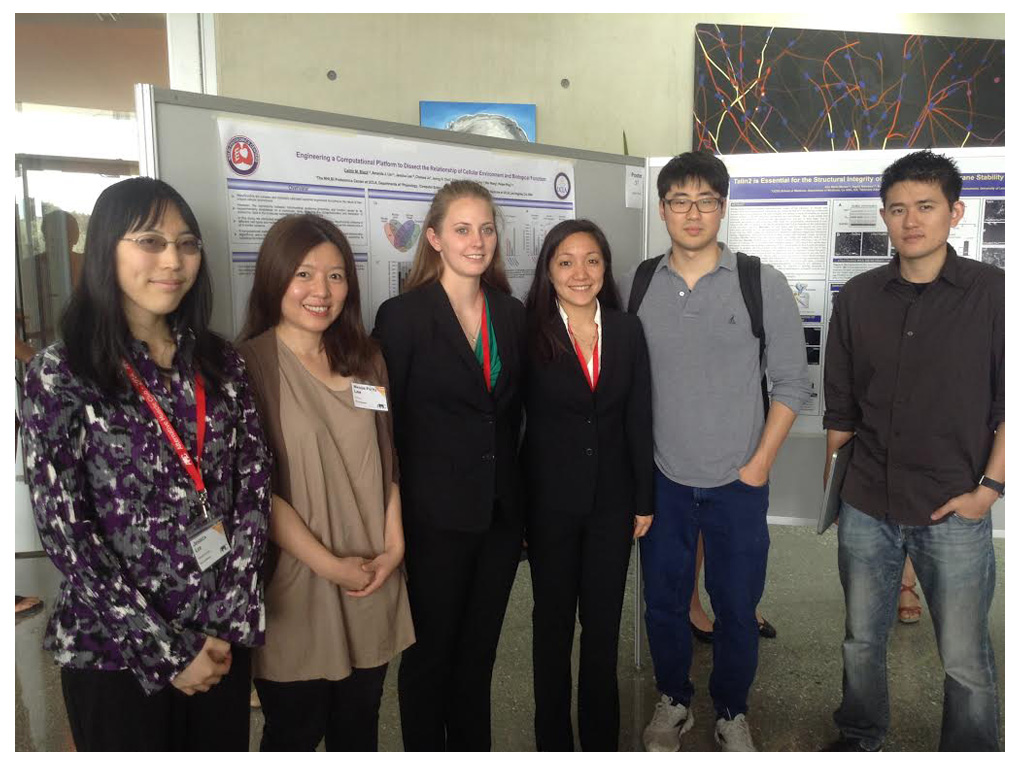 This team of young investigators from the Ping Lab had a great time at the 2014 Alternative Muscle Club Meeting in San Diego, CA. Three posters were showcased at this conference.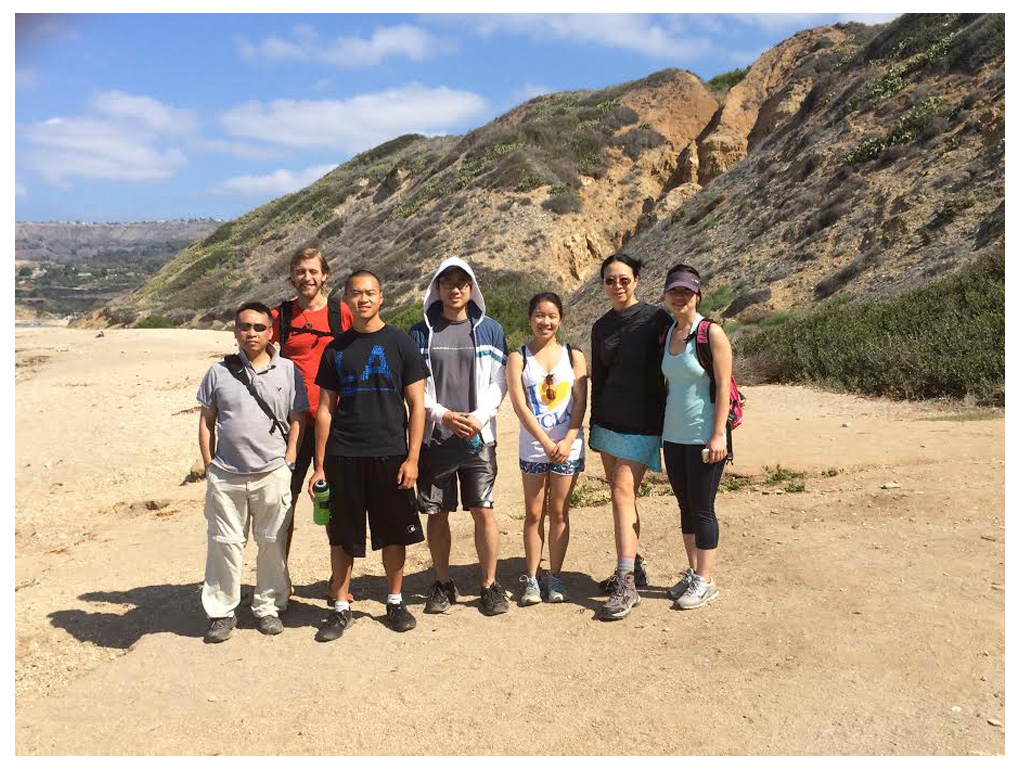 Hiking at the Donald Trump Golf Course
Angels of Crowdsourcing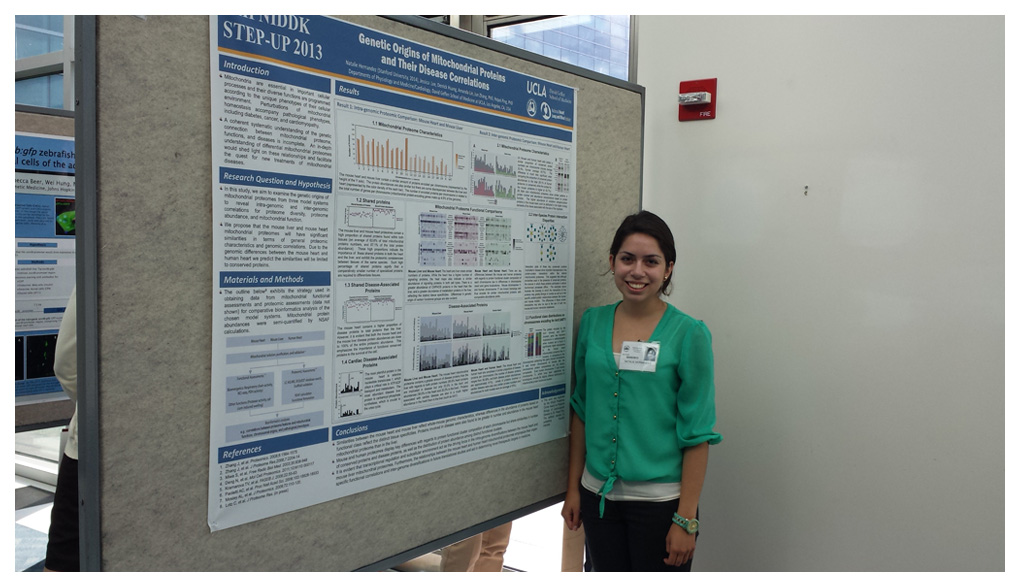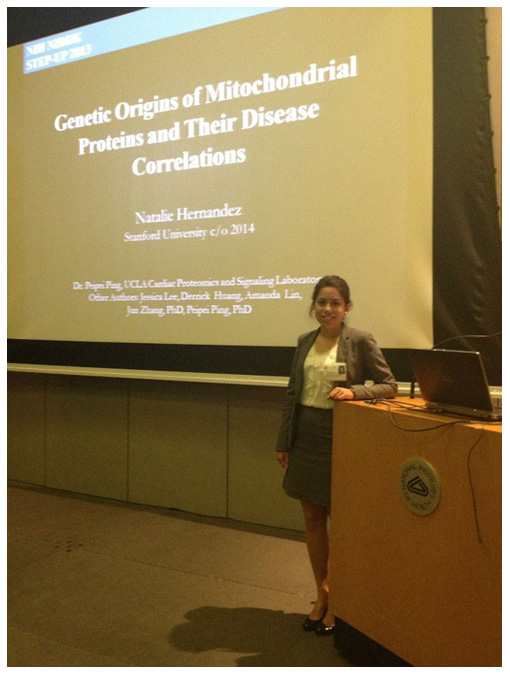 Congratulations to our summer intern Natalie Hernandez on her successful completion of the NIH NIDDK conference! A visiting student from Stanford, Natalie spent 8 weeks this summer in our lab characterizing the mitochondrial proteome of mouse heart, mouse liver, and human heart from a genetic perspective using protein chromosomal origins as a comparison. It was a pleasure having her here and we wish her the best in her future endeavors!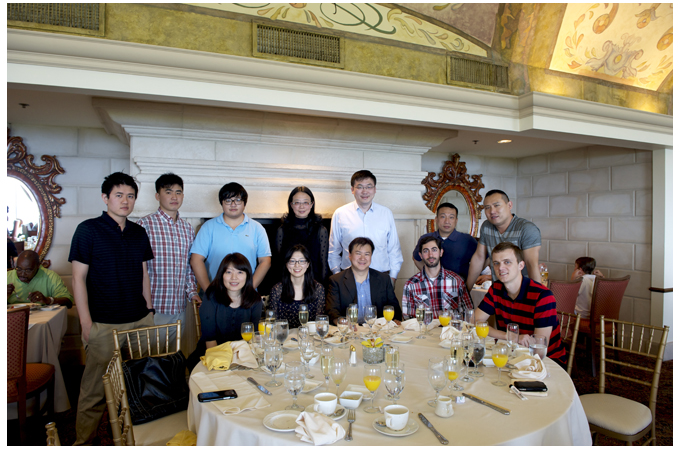 Farewell to Allen (second from the left in the back row) and Xiangbo (third form the left in the back row). Good luck in grad school.
Roses blossom in Peipei's garden.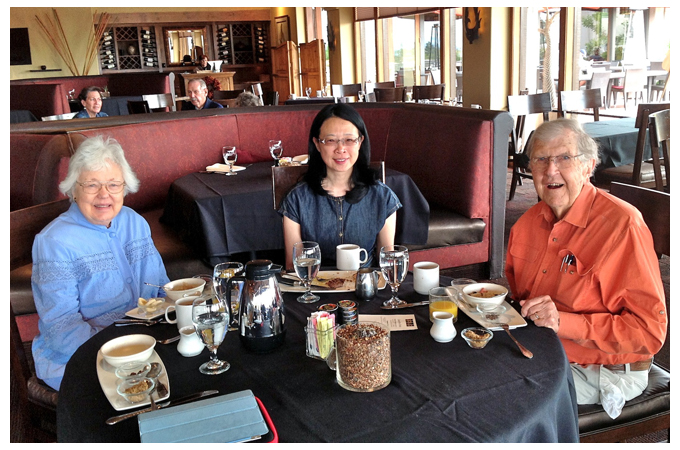 Dr. Ping visited her mentor from the graduate school, Dr. Johnson and his wife. It brought back many memories.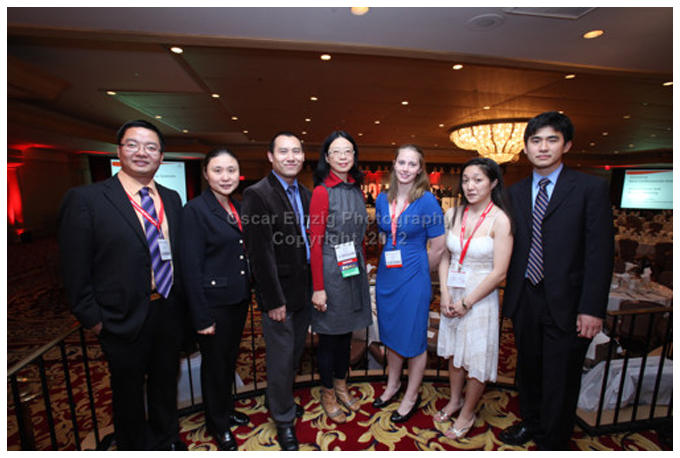 2012 AHA BCVS Council Dinner in Los Angeles.Right to Left: Allen, Amanda, Caitie, Peipei, Ding, Jun and Yu.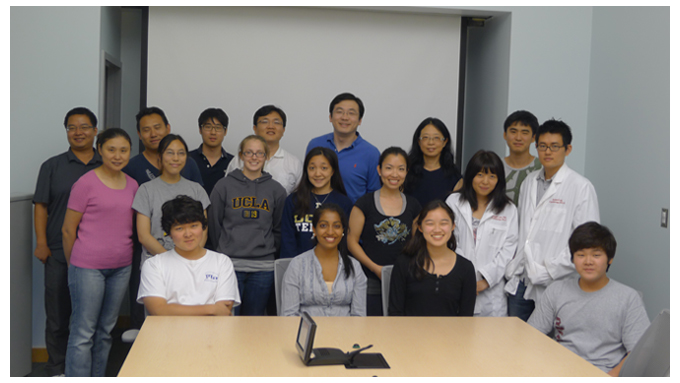 Graduation day for 2012 Summer Interns. Right to Left: Jun, Tina, Ravina and Jung are in the front row. Dr. Ping and Ping group scientists are behind them.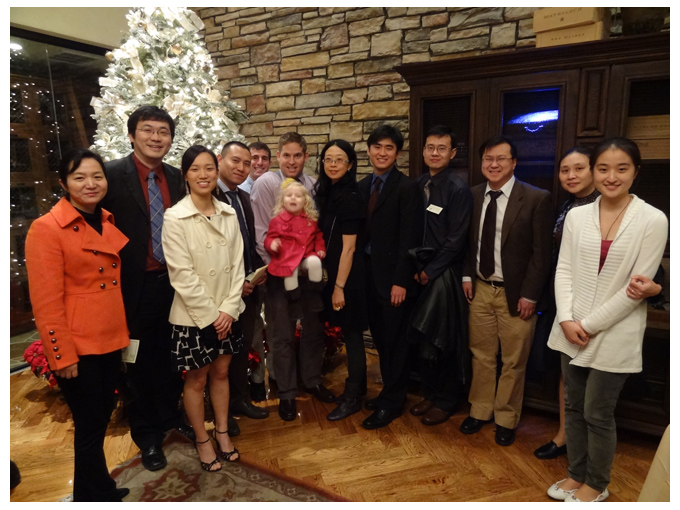 Right to Left: Mabel Chen, Dr. Jun Zhang, Dr. David Liem, Dr. Haomin Li, Allen Kim, Dr. Peipei Ping, Kevin Scruggs, Alice Scruggs, Jared Powers, Dr. Ding Wang, Jasmine Choi, Dr. Nobel Zong and Dr. Hongxiu Yu. We are at Tae-young's wedding reception (Dec. 2011, Westlake Villiage CA)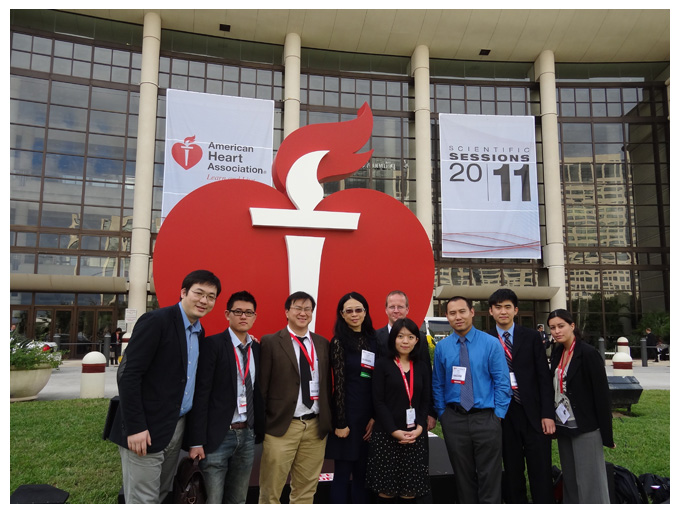 Right to Left: Ivette Zelaya, Allen Kim, Dr. Ding Wang, Dr. Maggie Lam, Dr. Henning Hermjakob, Dr. Peipei Ping, Dr. David Liem, Edward Lau and Dr. Nobel Zong. American Heart united us (Nov. 2011, Orlando FL; AHA Scientific Sessions).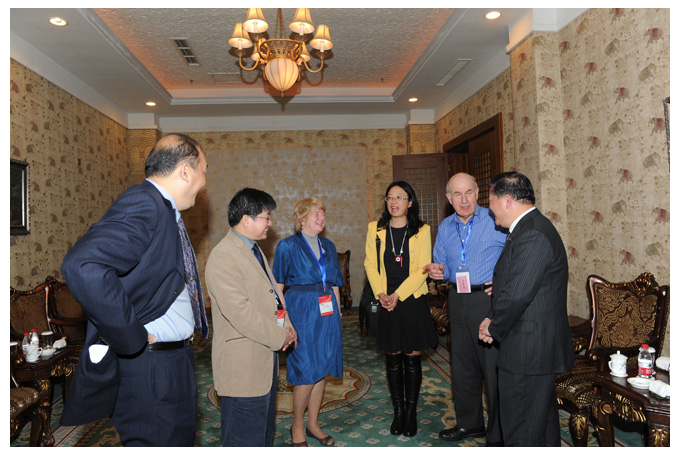 Right to Left: Dr. Zhu Chen (the Minister from the Chinese Ministry of Health), Dr. Ommen, Dr. Ping, Dr. Costello, Dr. He, and President Yang (Zhejiang University) at a group discussion (Apr. 2011, Hangzhou, China).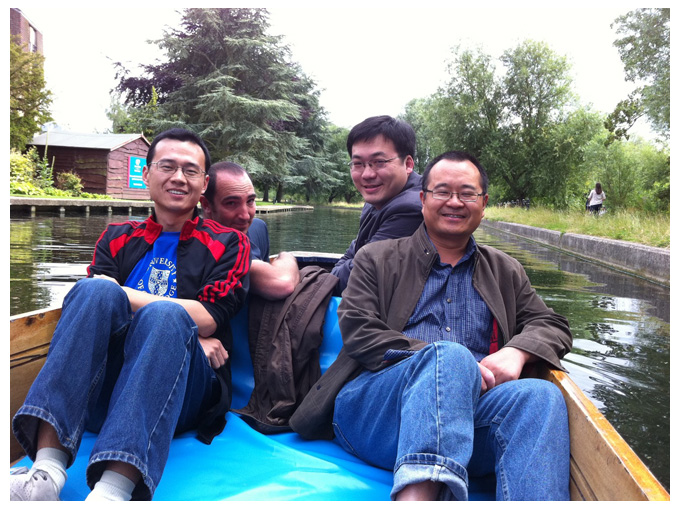 The fantastic four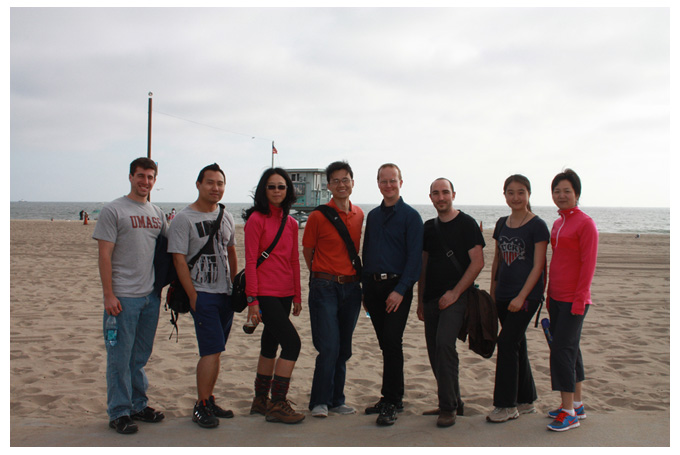 The bioinformatics central moved to LA. Everyone is ready to step into the new era.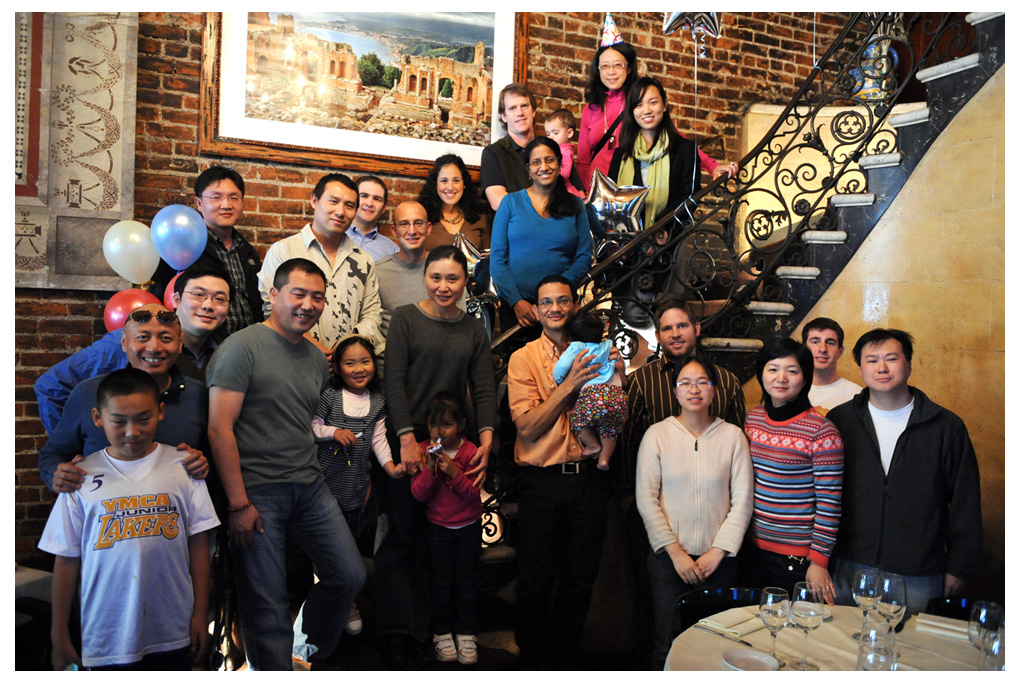 Jun's birthday party and lab reunion. You can obviously see the productivity and reproductivity of the group.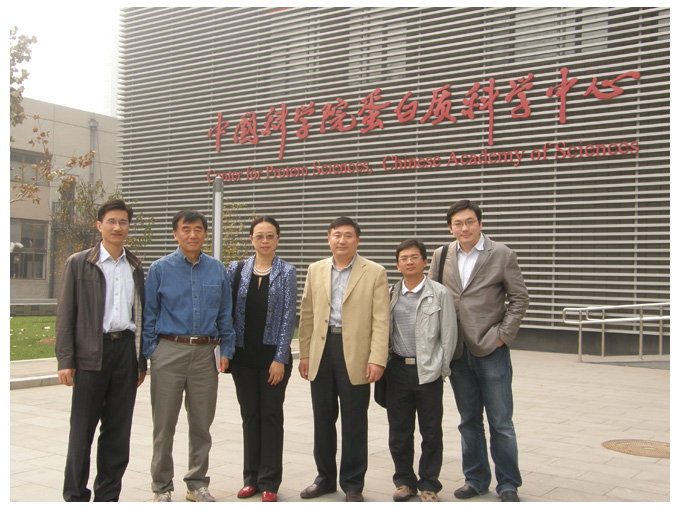 Dr. Ping met her colleagues at Institute of Biophysics, Chinese Academy of Sciences.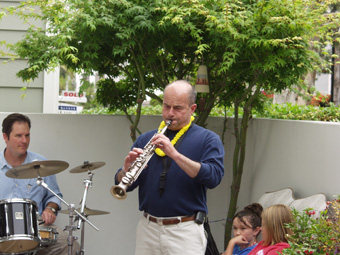 Summer party @ Dr. Ping's house. Dr. Weiss: "Aloha"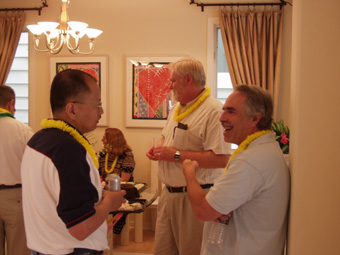 Dr. Philipson "Great food". Mr. Chen "You bet".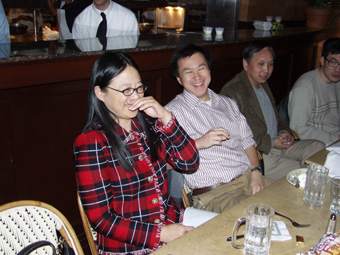 David, "Can we have dinner like this every night?" Dr. Ping, "You're kidding?".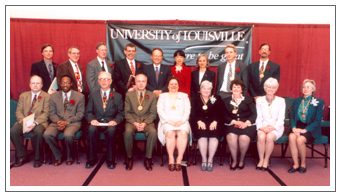 Dr. Ping and other University Scholars recognized at a ceremony held by former University of Louisville President, Dr. John Shumaker.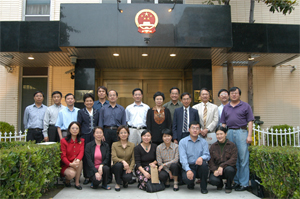 Dr. Peipei Ping was invited by the Education Console of Chinese Consulate of General at Los Angeles 2005.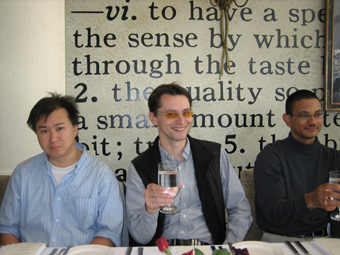 Special guest, Dr. Mayr Manuel.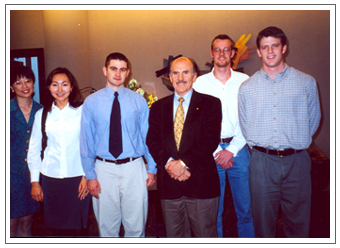 UofL Cardiology Grand Rounds speaker, Nobel Laureate, Dr. Louis J. Ignarro. From left to right: Dr. Ping, Dr. Balafanova, Dr. Pass, Dr. Ignarro, Dr. Baines and Dr. Vondriska.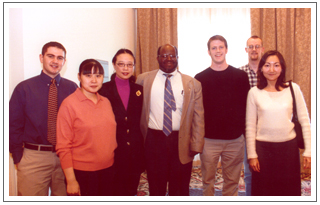 Dr. Ping receives the 2001 UofL Exemplary Advisor Award. From left to right: Dr. Pass, Dr. Zhang, Dr. Ping, the Chair of the Department of Physiology, Dr. Irving Joshua, Dr. Vondriska, Dr. Baines, and Dr. Balafanova.